**This blog post was written by Kimmel Cancer Center development specialist Allison Rich.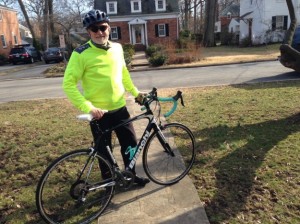 With August just around the corner, it is crucial that we pause and take stock of our progress towards the goals we hope to reach before the starting line on September 13th. For Michael Iati, the Senior Director of Architecture and Planning for the Johns Hopkins Health System, watching several close family members battle cancer – and witnessing the amazing work that happens each day at the Kimmel Cancer Center – provided the impetus he needed to not just reach, but remarkably exceed, his own fundraising goals.
Currently the top individual fundraiser for this year's inaugural Ride to Conquer Cancer, Michael has raised over $18,600 towards his current $20,000 goal. Having initially set a goal of $5,000, which is double the required individual fundraising minimum, Michael equates his fundraising success to starting a machine that, once running, is nearly impossible to stop. For Michael and his wife Dominique, who is also riding, this machine took the form of email requests sent out to friends and colleagues explaining what they were hoping to accomplish and requesting donations of whatever amount may be feasible. Using this fundraising approach familiar to many of us, Michael shared his top advice for fellow riders who hope to reach – and exceed – their fundraising goals before September:
The rate of response for each email blast will only be about 30%. Don't be disappointed if not everyone comes through – find another 10 people to send it to, and cast as wide a net as you can.
Don't forget about people like your mechanic or your accountant. Cancer touches everyone, and they may have a compelling reason to want to give.
Always send out thank you notes right away, regardless of how much the person gave.
Don't be afraid to send a second follow up email – especially to family!
Send an email update once a month to keep donors posted. The email can include fun facts such as training milestones and the number of flat tires that month, which will help keep donors engaged and spreading the word about your goals.
Don't forget about the opportunity for friends and family to double their impact through matching corporate contributions, should their employer provide such a program.
Remember to personalize your fundraising page! Telling your story, or even making your own personal contribution, can make a huge difference to people who might be on the fence about giving.
Set your initial goal at an amount that is low and attainable – and when you meet it, raise it. Never let people see your goal at 100% or more!
Set your own deadlines for fundraising, letting email recipients know that you are hoping to raise X amount by a certain date. This small change can make all the difference to those people who might otherwise forget or put off giving.
Most importantly, for those who have already met their goals, consider helping to pay it forward by directing donors to the pages of riders who have not yet achieved their fundraising minimum. After exceeding his own goals, Michael read the stories of other riders, selected 13 people whose stories inspired him, and included a link to each of their pages on his own. By beseeching friends to help these riders, five of them have been able to reach their minimum goals in time for this epic event.
To learn more about Michael's story, please visit his fundraising page. If you have any fundraising tips and tricks of your own, please share them in the comments section below.