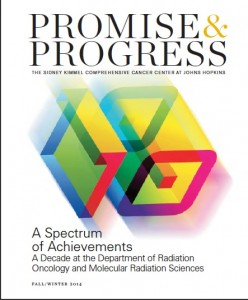 The latest issue of the Kimmel Cancer Center's magazine Promise & Progress marks the 10th anniversary of the Department of Radiation Oncology and Molecular Radiation Sciences.  Knifeless radiosurgery, proton beams, radiation sensitizing drugs, immune-stimulating therapies, informatics systems, efficiencies models, and inventions that move research forward and make treatments safer are a sampling of the exciting new cancer science and medicine detailed in this issue.
The issue also includes information on the latest research making headlines, new clinicians and scientists, honors and awards, and the generous donations that are helping us fight cancer.
Find Promise & Progress on the Kimmel Cancer Website and also search for it in "Newsstand" on the iPad.  Print copies can be requested by email at mehlva@jhmi.edu.