We've asked our staff to share their thoughts on the PBS documentary, Cancer: Emperor of All Maladies. This week, we'll post their comments, including how they hope it will influence the public dialogue on cancer, research and treatment.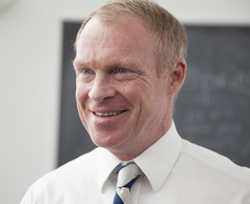 Pediatric oncologist, Pat Brown, M.D. shares his thoughts:
"I hope it (the documentary) will inspire an unprecedented outpouring of support for cancer patients, caregivers and researchers. I believe it will empower people to talk more openly about cancer, and to question whether solving the problem of cancer should be higher on our list of priorities as a society."
Tune into PBS stations nationwide, March 30, 31 and April 1 to watch the three-part, six-hour documentary series that tells the story of cancer based on the Pulitzer Prize-winning book, The Emperor of All Maladies: A Biography of Cancer by Siddhartha Mukherjee. The documentary, billed by its producers as one of the most comprehensive of its kind yet made, features several patient stories and interviews conducted with clinicians and scientists at the Johns Hopkins Kimmel Cancer Center.