Of the more than 300,000 cases of breast cancer diagnosed in the U.S. every year, about two-thirds are hormone receptor-positive, meaning a patient's cancer is fueled by estrogen. That's made hormone-blocking drugs a powerful weapon against this disease.
However, explains breast cancer expert Karen Smith, M.D., these drugs can have significant side effects—some so uncomfortable that they drive patients to quit taking them before completing the typical five- to ten-year course, often without notifying their doctors until the next scheduled appointment weeks or months away.
Quitting these drugs can have a serious impact on outcomes, Smith says. That's why Smith and her colleagues are studying a new way to help patients stay the course with these important treatments.
Recently, all Kimmel Cancer Center breast cancer patients gained access to an app called Thrive. It delivers education, helps them track their appointments, and helps them communicate with their care providers about their treatment plans. As an added component for some volunteers with hormone receptor-positive cancers, Smith's team recently incorporated an electronic patient-reported outcomes module or ePRO.
Soon after patients start their new hormone-blocking medications, the app delivers a 25-question multiple-choice survey that assesses the severity of common side effects, such as hot flashes, fatigue, nausea, and joint pain.  The app automatically gives patients the same survey after one month, three months, six months and one year on the medications and asks patients to report what medicines they were prescribed and if they're still taking them.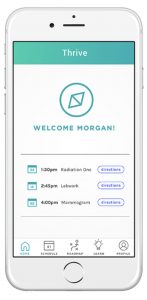 The app automatically sends these responses to the patient's electronic medical record, notifying the care team if the symptoms pass a severity threshold or if they've unexpectedly discontinued taking their medications. Guidelines in their charts recommend best practices to help ease patients' symptoms with the goal of helping them stay on these medicines.
This study, Smith says, will eventually enroll 500 patients. The initial goals will be to see if patients and doctors use this feature the way it's intended—exchanging information that ultimately helps patients continue to take hormone-blocking medications. It doesn't replace the more conventional ways that patients have to communicate concerns with their physicians, such as giving them a call.
Patient-reported outcomes have become an increasingly important part of patient care, Smith explains, with clinics often offering patients tablets or other portable computers to answer questionnaires before appointments to help make office visits more efficient. But this app is one of the first efforts to incorporate patient-reported outcomes between office visits, helping patients stay in close touch with doctors outside the clinic.
The feature is already prompting patients enrolled in the study to relay worrying symptoms that probably wouldn't have come up until their next appointment weeks or months away. If the study continues to show a benefit, ePRO may become a permanent feature that helps patients communicate better with their physicians.
"Research shows that you get more from patients when you give them a voice to report their own symptoms and severity," Smith says. "This app provides us a way to more comprehensively and authentically figure out what patients are experiencing, information that ultimately helps them remain on these life-saving drugs."