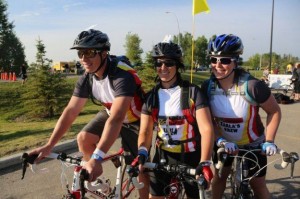 **This blog post was written by Kimmel Cancer Center development specialist Allison Rich.
With all of the training support that the Ride to Conquer Cancer makes available, cyclists of all skill levels have access to the tools they need to successfully participate in this epic event. But even with these tools in hand, conquering a two-day, 150 mile route is no small feat. In light of today's Gear Up Day events on campus, and with springtime weather just around the corner, there is no better time to ask ourselves what motivates us to grab our bikes and ride.
The motivation of the patients and survivors, their bikes identified with yellow flags, who ride towards a cure alongside their families and friends is unquestionably powerful. Others ride to honor a loved one who has passed away, a stoic reminder of just how important the research funds this event will raise truly are. But while cancer has touched everyone in some way, the reality is that not all of us have this kind of highly personal narrative that compels us to ride. For you, maybe the physical challenge of riding farther than you ever have before will drive you through the toughest miles; or perhaps the satisfaction of successfully raising funds towards defeating this disease provides more inspiration than the miles ever could. For some, a fun weekend spent with friends is reason enough to get involved.
No matter what motivates you to ride, we hope that you will register to become a part of the movement to make a difference in the lives of our patients and families. By signing up today, you can also take advantage of the special Gear Up Day registration code, JHRIDE50, and register for only $50! While no two riders will share the same reasons for getting involved, we are united by the same goal – to conquer cancer, together.