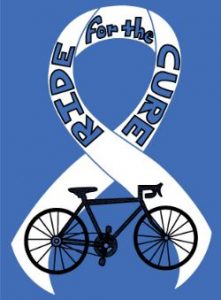 **This blog post was written by Kimmel Cancer Center development specialist Allison Rich.
There are as many reasons to gear up and join the Ride to Conquer Cancer as there are riders. Whether you are riding for the physical challenge, or are a cancer survivor yourself, each reason for riding paints a compelling picture of the unique journeys that will coalesce into one epic impact this September 13th and 14th. However, while our motivations may differ, we all share in common some challenges that stand between us and ultimately conquering this disease. From physical training to fundraising, these challenges begin to seem far less imposing when we take them on together.
For Te(5A)m, supporting each other during the Ride – and on the unit – is what makes the journey to September so feasible. Aptly named after its founding members, the Kimmel Cancer Center oncology nurses from the 5A unit of Weinberg, Te(5A)m is 17 riders strong – and even includes one very dedicated rider from Australia! Sharing an infectious enthusiasm for the impact that the Ride can make in the lives of their patients, families, and friends, the team has overcome the challenges of fundraising by working together long before the starting line.
Approaching fundraising as a steady climb, much like the 150-mile ride itself, Te(5A)m has spent the past several months raising funds through a variety of approaches which run the gamut from events at restaurants like The Green Turtle and Slainte's Pub, where a portion of the proceeds are donated to the team, to simply cycling around Baltimore with donation buckets at the ready. Overall, the team has successfully raised over $17,000, and a series of upcoming efforts are sure to bring them even closer to their final goal.
Te(5A)m's latest fundraising approaches involve a specially designed t-shirt, available for sale until July 21st, and a raffle for a huge gift basket featuring gift cards and gear from an assortment of local businesses such as Looney's Pub, Dog Watch Tavern, Pitango Gelato, and Ten Thousand Villages. The t-shirt is available in several colors with either long or short sleeves (priced at $10 and $15, respectively), and features a white ribbon, indicative of the hope to conquer all cancers. The raffle tickets are priced at $1 each, or six for $5, and a winner will be drawn on August 1st.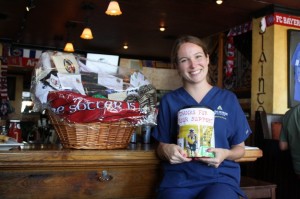 To show your support for Te(5A)m by purchasing a shirt or a raffle ticket, please email Kathie Garben at kgarben1@jhmi.edu. As September swiftly approaches, we can all draw inspiration from the work of Te(5A)m, realizing that the difference we can make when we come together is far more powerful than that which we can achieve on our own.