**This blog post was written by Elisabeth Carrino-Tamasi. Elisabeth is a Clinical Social Worker at the Johns Hopkins Kimmel Cancer Center at Sibley Memorial Hospital and the proud daughter of Dominic Carrino

You have cancer.  Those three words turn the world upside down and leave patients, family members, and loved ones reeling from the news – and seeking sources of hope.  For each of us, hope comes in different forms.  Understanding and recognizing these individual distinctions and personal nuances is an essential component of optimizing oncology care at the Kimmel Cancer Center.  Because hope matters.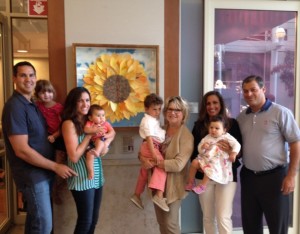 In 2012, the Kimmel Cancer Center unveiled The Hope Project.  The program is designed to incorporate each patient's definition of hope into their treatment plan, while establishing a community of support that complements these hopes. This requires faculty, staff, caregivers, and patients to be fluent in the language of hope and its individual interpretations.
To further etch The Hope Project into the daily culture of the Kimmel Cancer Center, a sunflower was chosen to symbolize the program.  Bold and bright and always turning to face its source of nourishment, the sunflower is the perfect embodiment of what hope means and why it matters to each of us.  For example, pins featuring the sunflower have been widely distributed amongst the Kimmel Cancer Center community, frequently from provider to patient, as a means of initiating dialogue and increasing fluency in the language of hope.
Last fall, my dad – Dominic Carrino – passed away after a battle with melanoma.  To anyone who knew him, Dominic was larger than life and full of hopeful optimism.  Sitting at my desk one day, I looked down at a plaque he gave me that reads, "HOPE – choose to see through optimistic eyes."  From there, an idea came to life. My family decided to support The Hope Project, and establish a lasting memory of Dominic through the creation of a work of art modeled on the project's sunflower logo.
Thus, at this year's Cancer Survivor's Day, 200 patients wrote their hopes on the petals of a sunflower that was then assembled by two local artists and blessed by Rhonda Cooper, the Kimmel Cancer Center chaplain. The completed project now hangs in the Weinberg Ceremonial Lobby, and will serve to both honor the eternal optimism of Dominic and help educate the Kimmel Cancer Center community about hope and the vital role it plays in the face of cancer. Most importantly, the Carrino Sunflower will be a lasting reminder to all of us that hope is a reservoir of strength, a sustaining force, a guide, a positive state of mind, a peace-giver – and a lifeline.
Dr. Evan Lipson, Dominic's oncologist, remarked that "Mr. Carrino was a warm and genuine man whose sense of hope brought joy and fulfillment to him and his loved ones.  A hopeful inner strength exists in every one of us; as an oncologist, one of my jobs is to help patients access their hope, to empower patients and families confronting a cancer diagnosis."
As part of The Hope Project, the Carrino Sunflower will also be featured on posters which will hang in each exam room, displaying information about the Project that patients may use to help initiate conversations about hope with their physicians. Online teaching modules, and a video compiling interview clips surrounding the role of hope in patient-physician interactions, will further spread the language of hope throughout the Cancer Center and the community. A befitting tribute to Dominic, our eternal optimist, as well as to the battles being fought by each patient who walks through the Cancer Center, the Carrino Sunflower will continue to represent the optimism and hope that supports patients and families throughout their entire cancer journey.