**This blog piece was written by Judy F. Minkove on the Communal Art Project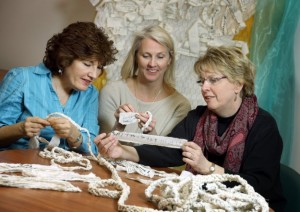 I'm so proud of you, Mom … I love you beyond reason … Hope you're jammin' in Heaven … are among hundreds of poignant messages that form an artistic expression of love and loss at the Johns Hopkins Kimmel Cancer Center. Each May, the center holds a service of remembrance to honor patients who died of cancer during the previous year. As part of the ceremony, family members and friends write notes to lost loved ones on strips of muslin cloth, then insert them into a wire and tulle sculpture (see backdrop).
After oncology chaplain Rhonda Cooper documents all of the notes, staff members volunteer time to braid them into a rope, which is now more than 50 feet long. Ultimately it will form a sculpture of an urn. Community artist Cinder Hypki, left, who conceived and designed the therapeutic art project, says it "allows for very private and collaborative public grief, longing and celebration of loved ones. Their words are transformed into a symbol of strength in unity."
Seated beside Hypki are volunteer braiders Colleen Apostol, Weinberg 5A and 5B nurse manager, and Pain and Palliative Care Program nurse coordinator Lynn Billing.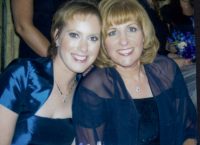 The sixth annual Service of Remembrance is scheduled for May 14 at 7 p.m. in the Weinberg Ceremonial Lobby.
Last year, I had the privilege of speaking at the Service of Remembrance about my personal experience with loss (our beautiful 28-year-old daughter died of lymphoma in July 2012) and how it shaped my understanding of hope. Afterward, when I saw people running to tables to write little messages for the sculpture pictured above, I hesitated to join them.
Honestly, the whole idea seemed hokey to me. But then I heard the buzz. I watched as hundreds of guests embraced caregivers and friends and caught up, exchanging laughter and tears. And I saw the urgency on their faces as they grabbed markers and wrote messages to loved ones.
Seconds later, I felt compelled to do the same.
I can't quite capture how that felt. It seemed like an out-of-body experience. But I do know this: As I wrote on that tiny slip of cloth to acknowledge Rachel's caregivers and to send my daughter a personal message, I felt empowered and uplifted. And I saw radiance wherever I turned.
Thank you, Cinder, Rhonda, Lynn and the other kind folks involved in orchestrating this beautiful project. For me and for many others there that night, participating in this effort provided a memorable touchstone—or as Cinder calls it, a healing ritual.
Learn more about the art project.