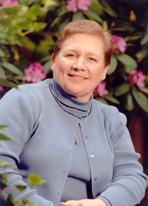 This post is written by Lillie Shockney, the Administrative Director of the Johns Hopkins Avon Foundation Breast Center and a two-time breast cancer survivor.
Completing Treatment - Time to Celebrate?
You'd think so. You've been through surgery, perhaps chemo and radiation, maybe on or completing hormonal therapy and you are finally "done" breast cancer treatment. So ready for a party?  Most will say no. Why? Though most of you (and me) are thrilled to be done treatment, the idea of celebrating sounds some how risky. I spoke to a woman today who had just finished her treatment. She said, "I'd love to have a party but don't want to jinx myself-you know, the cancer might come back. "  And thus the fear of recurrence, whether it be local recurrence (back in the breast or chest area where it started) or distant recurrence (in the form of metastatic disease with breast cancer springing up in another organ) paralyzes women from feeling comfortable with celebrating this mammoth job they have completed-- overcoming breast cancer.Read More »Completion of Treatment — Time to Celebrate?