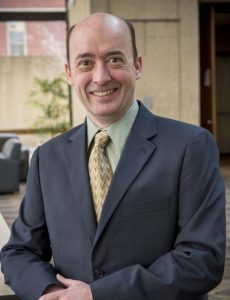 With more than 25 years in news broadcasting, Larry Frum charts the course of outreach and coverage for the Sidney Kimmel Comprehensive Cancer Center at Johns Hopkin, providing information and connections for media to learn and report about the work of the team at the center.
Before joining Johns Hopkins, Larry worked for NBC News in Washington, D.C., as a digital producer, editor and writer. He worked at CNN.com in Atlanta as a national affiliate editor and tech writer, specializing in science, tech and gaming.
He worked in a variety of positions, including managerial posts, at various radio, television and Internet stations in West Virginia, Pennsylvania, Ohio and Maryland. His experience includes covering presidential campaigns and a Super Bowl, and working at the 2004 Summer Olympics in Athens.
Larry graduated from Marshall University with a bachelor's degree in communications and a specialization in physics.