This blog is the final in our four-part  "Cancer-Free Mondays" series about how the Maryland Cigarette Restitution Fund is helping Maryland Citizens.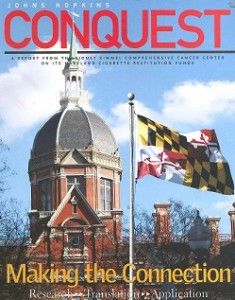 CRF programs have improved the health of Marylanders, and CRF research has greatly advanced the understanding of cancer.  This work has earned scientific recognition and awards, been published in science journals and been the subject of media reports. Careers, products, and businesses have been launched. Revenue has been made for our state. There are countless success stories to tell.  Here are a few that had far-reaching impact.
Reducing Maryland's Cancer Burden:
Working together, researchers and elected officials reclaimed and reformed Maryland's legacy.  Maryland went from having the highest cancer death rates in the nation to 30th since the implementation of the Maryland Cancer Control Plan and the Maryland Cigarette Restitution Fund. Cancer death rates in our state are below the national average and rates for certain types of cancer are declining faster than the national rate, and this drop coincides directly with the timing of these two initiatives. All of the major cancer killers—lung, prostate, breast, and colorectal cancers—and all of cancers targeted through the CRF are on a downward trend in Maryland. Maryland's efforts did not go unnoticed. In 2002, Maryland received recognition from the U.S. Congress for establishing the Maryland CRF and became the first state—at the time, the only state—to use its tobacco settlement funds to fight cancer.
Pioneering the First True Tests for Cancer:
Victor Velculescu, M.D., Ph.D., and Luis Diaz, M.D., launched their careers with seed funding from the CRF. Velculescu relocated to Maryland from California, and Diaz from Michigan to become part of the research team that led the world in deciphering the genetic blueprints for cancer.  Their work has led to pioneering new cancer tests that can detect the earliest genetic changes that precede cancer development in blood, urine, cervical fluids, sputum and other bodily fluids.  The ability to detect these initial changes would permit early interventions and could potentially make many cancers curable.  Their success led Velculescu and Diaz to form, and in 2013 expand, the Maryland company Personal Genome Diagnostics.  In 2014, their research team leveraged these and other discoveries and received a  gift from Ludwig Cancer Research for cancer genetics research and translation to new cancer treatments.
Taking on the Leading Cancer Killer:
In the inaugural year of the CRF at Johns Hopkins, Shyam Biswal, Ph.D., received support to construct a cigarette exposure facility.  He used mouse models to study smoke-induced lung cancer and uncovered genetic biomarkers that may be useful in the early detection of lung cancer, the leading cancer killer.  With this discovery, Biswal began collaborating with University of Maryland investigator Geoffrey Gurnin to identify drugs that target the genes affected by cigarette smoke and could potentially be used to prevent lung cancer. The demand for his cigarette smoke facility and lung cancer expertise led Biswal to expand his laboratory and create Cureveda, a Maryland biotechnology start up company that employs 20 people.  His work resulted in one patent already, and two patents are pending. In addition, Biswal leveraged the findings from his initial CRF support to earn grants from the Maryland Technology Development Corporation (TEDCO), the Flight Attendant Medical Research Institute (FAMRI) and the National Institutes of Health to continue his work.
 Cancer Prevention:
When the CRF was established, Maryland, and particularly Baltimore City, had some of the highest prostate cancer death rates in the nation.  As a result, prostate cancer was named a CRF priority.  In pioneering research in an emerging new field known as translational epidemiology that combines population research with interventions, Johns Hopkins CRF investigator Elizabeth Platz, Sc.D., uncovered a connection between cholesterol-lowering drugs called statins and a decreased risk of developing aggressive and deadly prostate cancer.  She later collaborated with CRF investigators William Nelson, M.D., Ph.D., and Vasan Yegnasubramanian, M.D., Ph.D., to reveal that the commonly used heart drug digoxin halted prostate cancer cell growth in laboratory studies and that men taking the drug to treat their heart disease had a lower risk of developing prostate cancer. The CRF team is now working to better understand the cellular mechanisms to identify drugs that could safely prevent prostate cancer.  Other cancer prevention successes include CRF investigator Kala Visvanathan, M.B.B.S., who harnessed the power of broccoli sprouts to stave off cancer.  She is heading cancer prevention clinical trials of broccoli-sprouts tea and other preparations, rich in the carcinogen detoxifier sulforaphane.  CRF researcher Michael Carducci, M.D., is studying pomegranate extract, muscadine grapes, and other natural compounds that may have the ability to prevent prostate cancer.  The work of these investigators is revealing inexpensive and non-toxic ways, many of them from the grocery store shelves, which show promise in preventing cancer.
Growing Research Dollars for Maryland:
Though he had no connections to Maryland or Johns Hopkins, in 2002, Sidney Kimmel chose Johns Hopkins as the recipient of his historic $150 million gift to cancer research and care. At the time of his gift, Mr. Kimmel stated that Johns Hopkins captured his attention with its unique combination of scientific leadership with economic leadership. He specifically cited the partnership between the Cancer Center at Johns Hopkins and the state of Maryland to use the Cigarette Restitution Fund to finance cancer research.  This is one of many incidences where CRF investigators and CRF-supported research played an important role in bringing additional funding to Maryland. Multi-million grants from Ludwig Cancer Research, Stand Up To Cancer, the American Recovery and Reinvestment Act, the Avon Foundation, The Flight Attendant Medical Research Institute, the Department of Defense, and Centers for Medicare and Medicaid Services are among the groups investing in Maryland science and medicine at Johns Hopkins.  For every CRF research dollar spent, $10 has been brought back to our state through business contracts and other economic development.
Part 1:  Maryland and Johns Hopkins – A Partnership that Works for Maryland Citizens
Part 2: Maryland and Johns Hopkins - Teaming Up to End Smoking
Part 3: The Maryland CRF and Johns Hopkins in the Community